Refreshments
George & Dragon, High Street Great Budworth (01606 892650):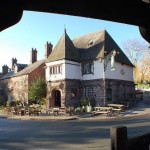 Lunches, afternoon teas, evening meals.  Monday to Saturday – 11am to        11pm.  Sunday – 12noon to 10.30pm
Ice Cream Farm, Heath Lane:Great Budworth  (01606 891211)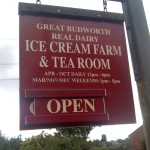 Coffees, teas, light lunches.  Real dairy ice cream is made on site in the dairy early each morning.  An abundance of toddler toys keep young children happy and there are often themed weekends or a maize maze in the summer.
From 1st April to 31st October: daily from 12 noon –          6pm
March, November and December: weekends only, 1pm till 5p                Closed January and February
Parish Hall, Smithy Lane:Great Budworth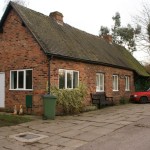 Sunday afternoon tea, coffee and cakes.  Open 2-5pm from Easter until October
Buildings of Note
Saint Mary and All Saints Church Great Budworth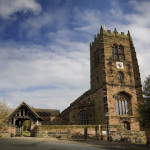 One of the most (literally!) outstanding features of the village is the church of St. Mary and All Saints, a Grade I listed building and described by Pevsner as 'one of the most satisfactory Perpendicular churches in Cheshire'.  Many visitors express surprise that such a large church should feature in such a small village.  The reason is that when the church was built (in xxx) Great Budworth was arguably the largest parish in Cheshire (with the possible exception of Prestbury).
Houses
Goldmine House and its attached cottage (Rose Cottage) were designated by English Heritage as a Grade II listed building.  They were built in 1870 for Rowland Egerton-Warburton of Arley Hall and were designed by the Chester architect John Douglas.  The house faces west and is of brown brick, with some timber framing and clay tile roofs.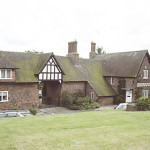 Dene Cottages is a pair of cottages, also built for Rowland Egerton-Warburton and designated by English Heritage as a Grade II listed building. They were designed by the renowned Chester architect John Douglas and built in 1867-68.  The lower storeys are constructed of brown brick. The upper storeys are timber-framed with plaster panels and the roof is in clay tiles. The plaster panels are pargetted with floral motifs.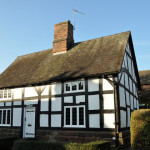 Belmont Hall, located about a mile outside the village, was built by J. H. Smith-Barry Esq.  Built in 1755 and designed by James Gibbs, it is a Grade I listed building.   Since 2011 it has been occupied by Cransley School.
George and Dragon pub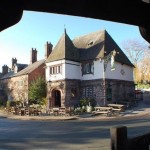 The George and Dragon , designated by English Heritage Grade II listed building, was initially built as a simple three-bay Georgian inn.  Dating back in parts to 1722, is a rare example of the quintessential English village pub. In 1875 its restoration was commissioned by Egerton-Warburton and carried out by Chester architect, John Douglas, who added tall rubbed chimneys, mullioned windows and a steep pyramidal turret. The pub has many other features of interest to architectural historians, including a strikingly unusual inn sign located diagonally from the right corner.
54–57 High Street Great Budworth
This is a row of four houses in High Street Cheshire, designated by English Heritage as a Grade II listed building, originally built in the early 18th century – or possibly even earlier. In the early 1870s they were refaced and partly rebuilt for Rowland Egerton-Warburton of Arley Hall by the architect John Douglas.  The two outer buildings are houses and the two central buildings are cottages. They are built in brown brick with clay tile roofs, and have two storeys, plus attics. Each building has a gable, those on the outer buildings being larger than those on the inner buildings, and all are decorated with brick and plaster.
This well at the bottom of the High Street used to be the only water supply to the village…